Quantum Binary Signals specializes in signals for major currency pairs, but they also provide signals for a few other currency pairs. I don't recommend Quantum Binary Signals to anyone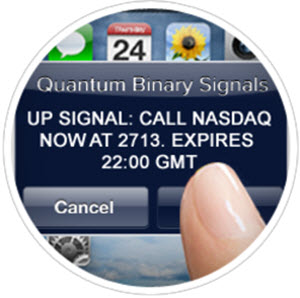 who wants to trade exclusively in binary options based on stocks, commodities, etc. If you on the other hand are interested in trading in binary options based on currency movements, Quantum Binary Signals has a lot to offer.
On average, one or two signals are sent out each day. Some months, the number of signals is significantly lower than this. Quantum Binary Signals has a focus on quality over quantity.
Available signals
A majority of the signals are for major currency pairs such as EUR/USD and USD/JPY.
Signing-up
Examples of transfer methods accepted by Quantum Binary Signals are PayPal, Western Union, VISA, MasterCard, Diners Club and Skrill / Moneybookers.
For more info, contact the customer support at info@quantumbinarysignals.com.
How it works
You don't have to download any software or even visit the Quantum Binary Signals site to see the signals, since they are sent out to the email address you provided at sign-up.
You can also sign up to receive the signals as a text to you your cell phone. Great for anyone who don't want to be tied to their computer.
The messages that are sent out via email or SMS (text) include information such as asset, up or down, price, option type and expiration time to use.
The expiry time is typically within the 10 minutes – 60 minutes span.
Signing-up
The cost of Quantum Binary Signals is 100 USD per month.
You can sign up for a 7 day trial subscription for 10 USD. This subscription needs to be manually canceled if you don't want it to turn into a regular subscription after the trial period.